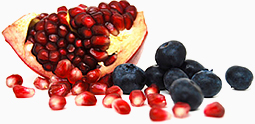 There is no doubt that Acai is big health news! But as a consumer you want the best possible superfruit juice and the enormous health benefits that come from them. That is why Viva!Acai™ includes both Acai and Pomegranate. Most of us are a little careless about our nutrition habits. We know that we should be eating more fruits and vegetables but we just don't do it. Fortunately, nature has brought us a new breed of nutrition and a simple solution with superfruits.

Viva! Acai™ is loaded with essential vitamins and incredible antioxidant power. In fact, Acai and Pomegranate are the top two superfruits in the world. It's a powerful jolt of nutrition and antioxidant benefits.†
SUGGESTED USE: One 1/4 ounce per day.
Viva! Acai provides you these benefits†:
Increased energy & stamina
Incredible antioxidant capabilities
Better muscle regeneration
Improved cardiovascular function
Improved blood pressure
Lower (bad) cholesterol levels

Why Buy Direct? In a word, freshness! Walk into your local vitamin shop, or shopping warehouse, and take a close look at their stock. Chances are you will find some products that may be close to expiration; and, may appear as if they've been sitting on the shelf for awhile! Here at Omega-Direct freshness is priority one! To ensure that you receive only the freshest stock we have taken the following steps:
All orders ship via ultra fast, USPS Priority 2-3 Day Air minimizing the chance of heat related damage. Compare this to UPS Ground which can take up to 7 days.
By selling hundreds of bottles a week new inventory arrives on a daily basis.
All stock is kept in a climate controlled warehouse at a constant 77 degrees.
We use a just-in-time inventory system which ensures that all our stock is no more than two weeks old.
ActiveX America takes great care during processing and handling to ensure you receive a product of unparalleled quality and freshness. Why compromise this by ordering older product from a retailer with unknown or questionable handling and storage procedures?
Nutrient Density
The nutrient density of Acai and Pomegranate is the key here. For those of you who are not familiar with the term nutrient density, it means the quantity of nutrients per calorie ingested.
In studies published in the Journal of Food Science (May 2007), University of Florida researcher and dietitian Gail Rampersaud reported on her studies of the nutrient density of 100% fruit juices. While this study is good in and of itself, she did not include phytonutrients. Phytonutrients are the organic compounds found in superfruits such as those found in Viva! Acai™. It is notable that these top two superfruits are rich in antioxidants and anthocyanin, a phytonutrient that provides enormous health potential.
Why add Pomegranate to Acai?
Pomegranate is a top superfruit in and of itself. There has been a great deal of research done on Pomegranate for its potential health benefits. (To read some of the clinical studies go to www.best-acai.org and click on the clinical studies link.) A review of the enormous number of clinical trials (which are ongoing) will tell you why Pomegranate is part of the bold Viva!Acai™ formula. So, while science has yet to provide us with a perfect definition of what a superfruit is, these are the general scientific criteria for designating a fruit as a superfruit. The list includes:
the density of the nutrients provided
the antioxidant power offered
the health benefit potential
the ability of the particular fruit to affect other cell and molecular structures
and, in the case of Pomegranate, the amount of clinical research that has already been carried out on that particular fruit.
Acai is now the #1 superfruit in the world and it is generating a lot of publicity in leading publications and in televised reports. Given the large and growing body of clinical evidence that supports the health values associated with using Pomegranate, it is the perfect ingredient to add to Viva!Acai™.
Synflex (synflex) is a registered trademark of ActiveX America, Inc. (Copyright 2002); and, all graphic images, logo, name and text are used by permission.